Creation of Shared Value

Condividi
The Group's mission shows a strong inclination towards sustainability, which is an indispensable part of the company's strategies: in 2024, 50% of EBITDA will be based on "shared value", involving, that is, projects that respond to the goals on the UN's Agenda, with investments for shared value projects corresponding to roughly 60% of overall 2020-2024 investments (3.2mld€).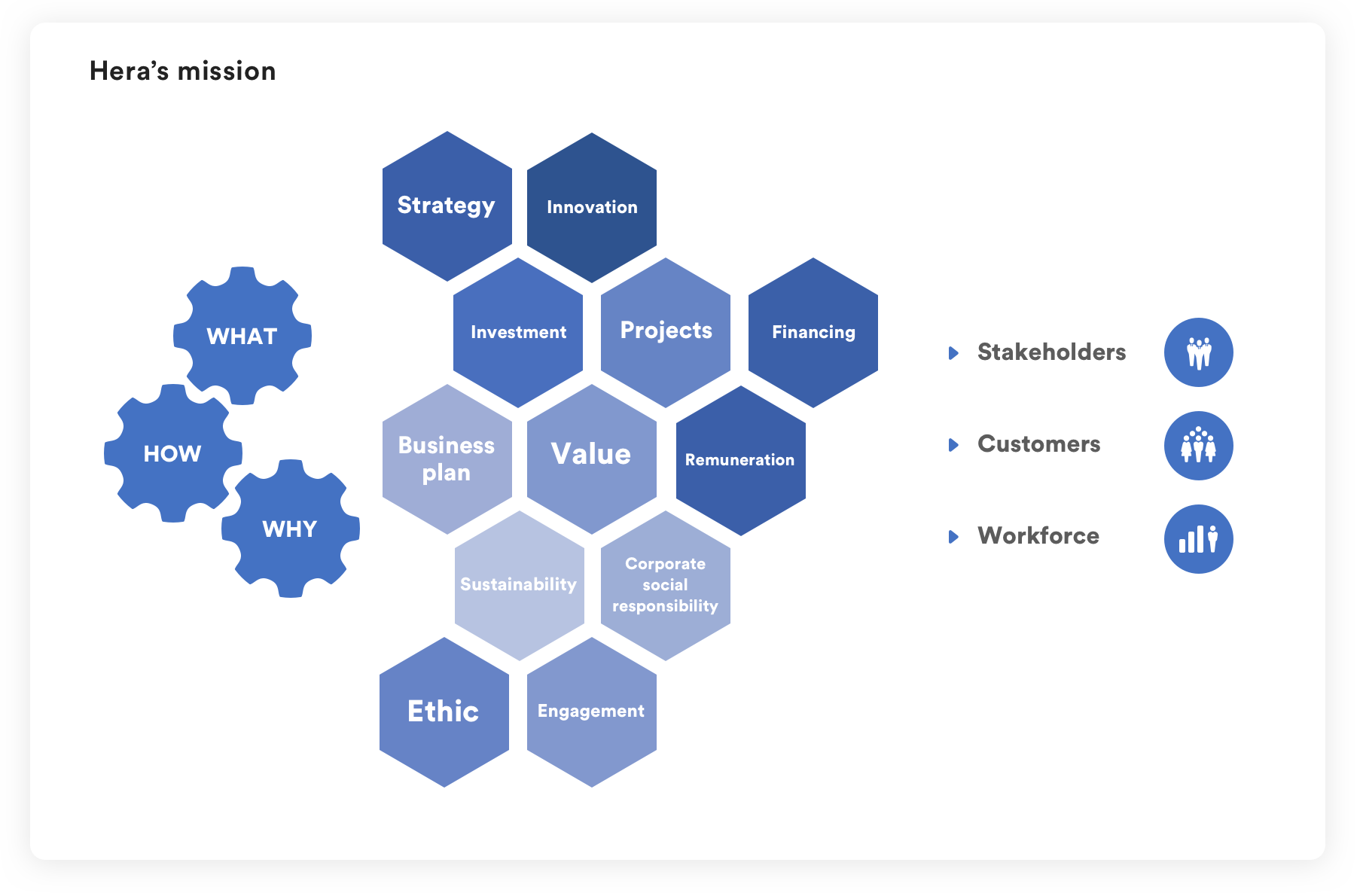 In line with the declaration of the corporate mission, for 10 years now, the Group has submitted to its BoD the Annual Financial Statements together with the Sustainability Report, so that the assessment of the industrial plans execution and the results achieved is carried out based on a complete and exhaustive set with information on Economic, Social and Environmental performance.
Seleziona il tuo comune
HeraAssetPublisherFilterComuneSelector
A leader in Italy in the Energy, Water and Waste management sectors, all of which are environmentally fundamental, the Hera Group's priority is to sustainably manage its core business and guarantee the creation of shared value for all stakeholders. Ever since the company was born, in 2002, the principles involved in sustainability are integrated into its operating procedures, its businesses, its reporting and in how it pursues goals that go well beyond simply managing its reputation.

Hera brings its own strategy into line with universal principles concerning human rights, the environment and the fight against corruption.




Its approach to sustainability management has been refined over the years, and we are now able to commit ourselves to pursuing most of the Global Goals identified by the United Nations. No less than 11 of the 17 SDGs ("Sustainable Development Goals") are given priority by the Group. SDGs are also included in its medium-long term strategy and in its mechanisms for variable short- and long-term remuneration for both top management and Group employees.
Shared value creation, with regards to EBITDA, represents the portion of industrial profits linked to activities and projects that move towards sustainability and meet the needs for change indicated by the "Global Agenda".
In 2019, no less than 39% of EBITDA came from shared value activities that respond to the calls to action on the Global Agenda. indeed, the Group plays a vital role in creating value, through activities linked to a circular economy and a sustainable management of water resources.
The plan to 2024 sets in place projects aimed at growth in all activities managed, 70% of which move towards «SDGs» («Sustainable Development Goals») bringing shared value Ebitda to reach 648 million euro in 2024 (equivalent to 50% of overall Ebitda). To reach this objective, an investment plan has been approved for 2020-2024 coming to 3.2 billion euro, 60% of which is dedicated to investment projects that contribute to increasing the generation of results in line with the SDGs.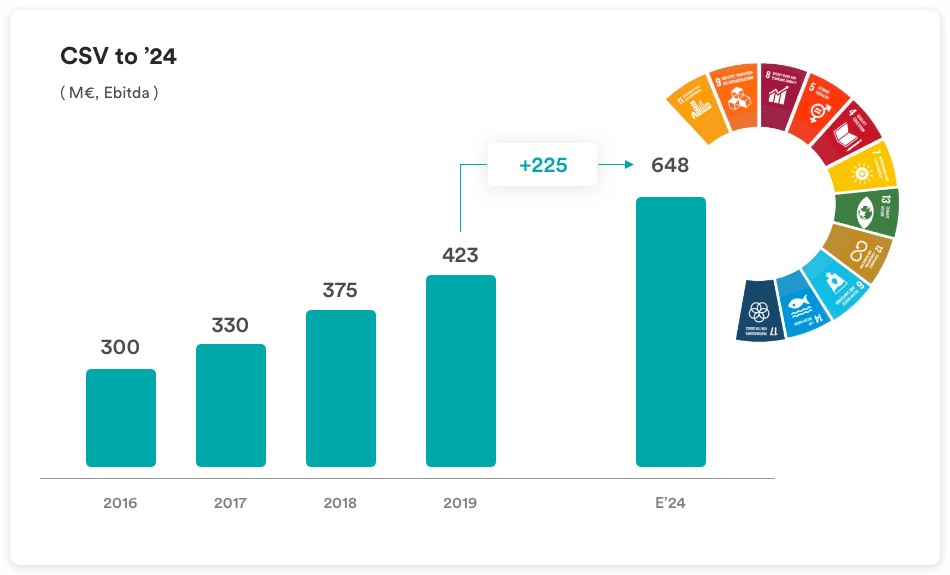 "Calls to action": drivers for change, expected investments and goals set by the UN 2030 Agenda that concern Hera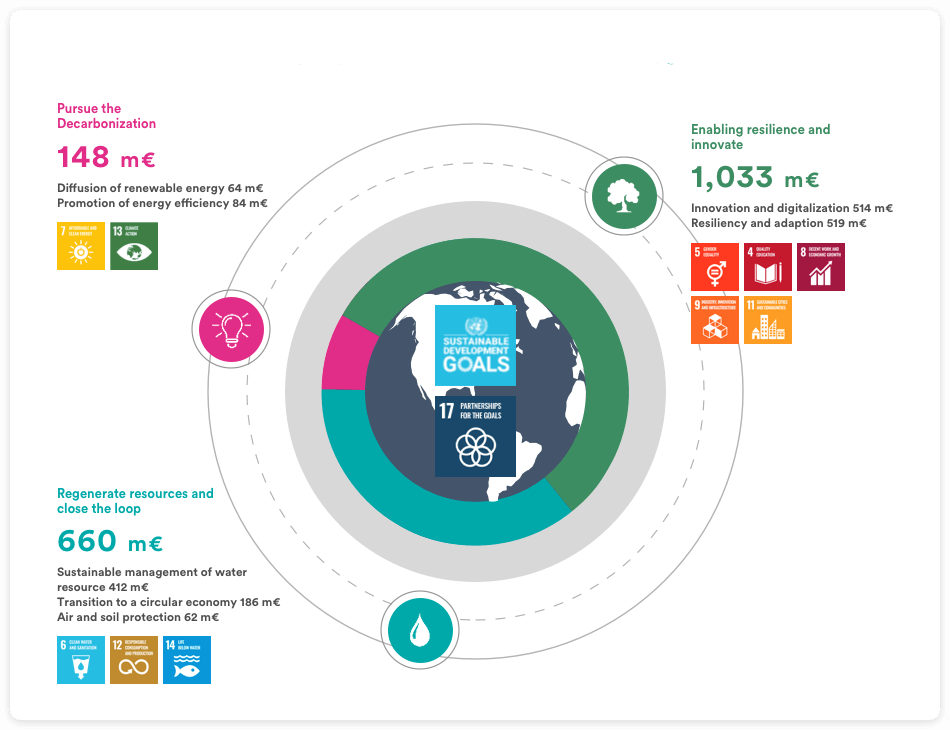 The Group makes concrete efforts towards sharing its know-how as well, by taking part in various national and international organisations, including the UN Global Compact and the Ellen MacArthur Foundation's CE100.
Seleziona il tuo comune
HeraAssetPublisherFilterComuneSelector