Internal growth

Condividi
---
is pursued through a wide range of levers
implementation of the usual efficiency levers (increased productivity and cost reduction),
synergies (extractable from M&As that have already been carried out and fall within the Group's scope of operations at the time when the business plan was published),
expansion of the customer base for free market energy sales and special and industrial waste treatment (internal increase in the market share, also involving cross selling),
infrastructure development, quality and efficiency bonuses awarded by the normative system for regulated activities,
increases in market prices,
efficiencies derived from implementing technological innovations,
expansion in gas distribution through concessions granted in tenders,
expansion in energy sales through tenders,
new services in public lighting assigned through tenders,
expansion in offers with new added value energy services.
This is a wide and diversified set of growth levers that can be activated on a "multi-utility" business portfolio, that in the past has proven able to create uninterrupted growth for the Group. We believe this can be achieved in the future as well: in the new Business Plan to 2024, the contribution to growth in Ebitda deriving from internal growth comes to +145mn€, as shown in the macro-components of the diagram.
Internal growth will be largely fuelled by increased efficiency and synergies within the current scope of operations, coming to over 100 m€ by 2024, and by earnings linked to the new projects and industrial and commercial development included in the Plan, along with earnings coming from new investments, which have increased compared to the previous Plan. Ebitda will also rise thanks to the elimination of theprotected electricity system, and the ensuing increase in the energy customer base, in addition to the Group's confirmation as manager of the gas distribution service (following tenders) in the areas already served today.
Growth will also be able to count on some other positive scenarios specific to each business.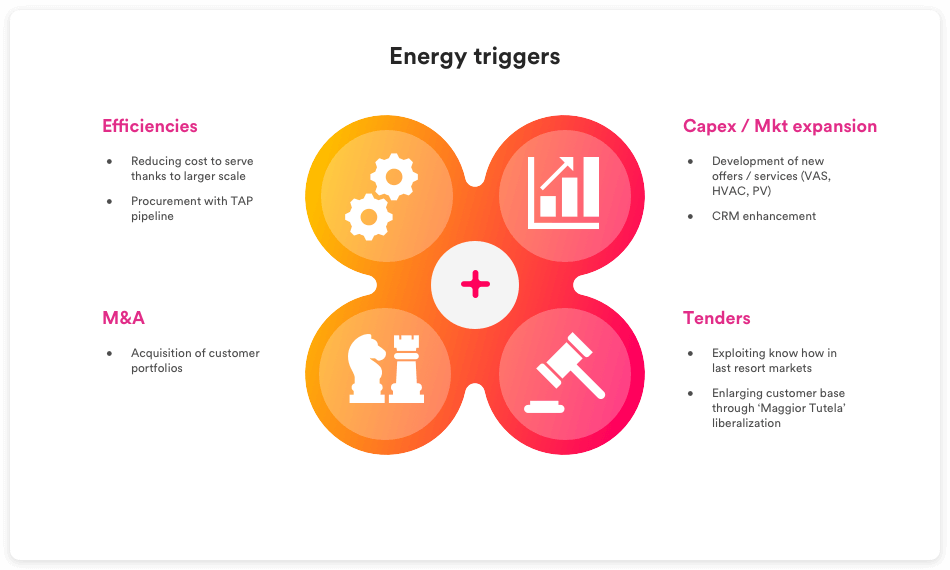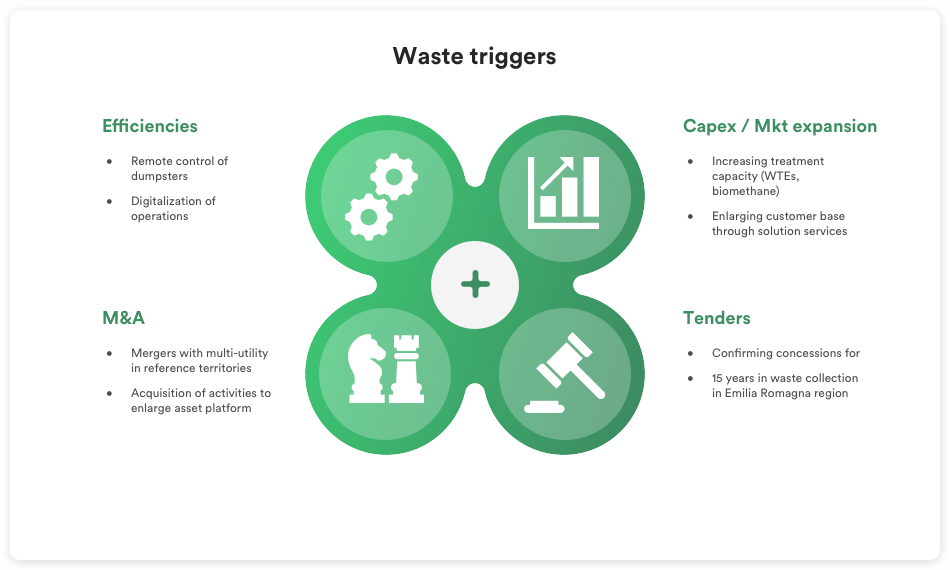 Page updated 13 January 2021
Seleziona il tuo comune
HeraAssetPublisherFilterComuneSelector