Who we are: multiutility company - Hera Group


Strategy, sustainability, and shared value
In 2002, the Hera Group pioneered Italy's first aggregation of municipalized companies that, with a multi-business approach, manage the provision of energy and waste management services to citizens and businesses.
Seleziona il tuo comune
HeraAssetPublisherFilterComuneSelector
Our greatest ambition is to build a new model of economic development in the area, respecting the environment and focusing on the needs of all our stakeholders.
We are one of the largest national multi-utility companies, listed on the Stock Exchange since 2003, and we have made direct relations with the surrounding area a real asset that has improved our resilience and ability to respond to change and new needs.
Being part of an ecosystem has boosted the development of our corporate culture: sustainability, circular economy, and innovation go hand in hand to enable us to offer a smarter and more digital approach to the local market.
Our main fields of operation are waste (management and treatment), water (aqueduct, sewerage, and purification) and energy (distribution and sales of electricity, gas and energy services), but we also offer public lighting and telecommunications, always following a business model that focuses on creating shared value for all our stakeholders.
In Italy, our Group's leadership is reflected in its numbers: more than 9,000 employees work to offer tailor-made services for customers and companies and meet the needs of 4.3 million citizens in over 330 municipalities, mainly in Emilia-Romagna, Veneto, Friuli Venezia Giulia, and Marche.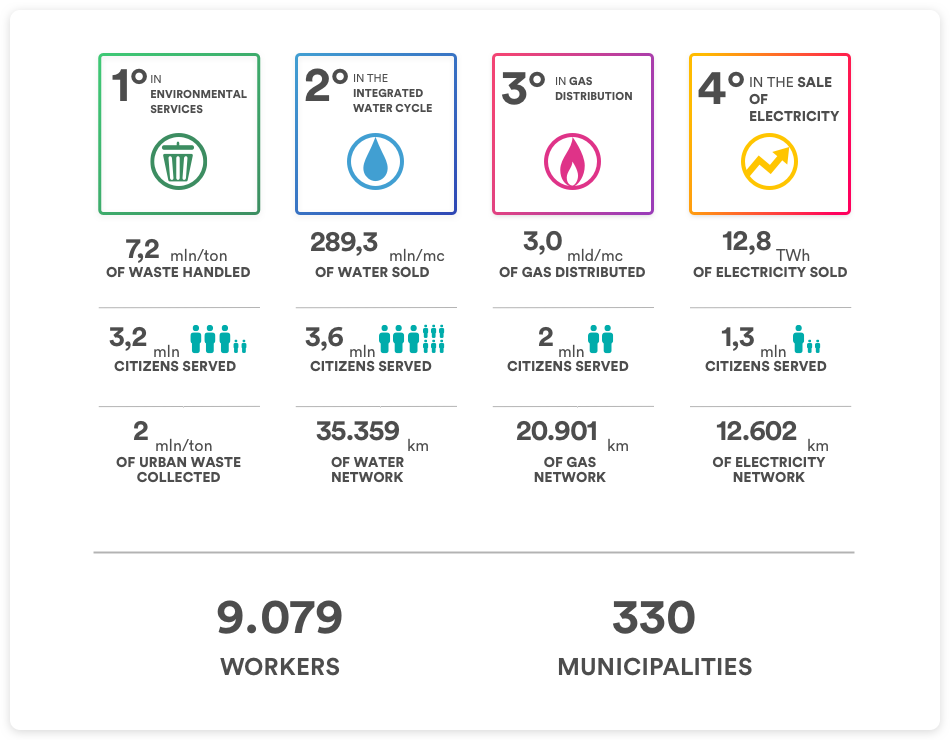 Our multi-business strategy has always been linked to sustainability because CSV objectives are included in our planning and control systems and operational management.
The importance we attribute to the concept of social responsibility is expressed in our contribution to achieving a sustainable future: our Business Plan reflects our commitment to achieve 11 of the 17 goals of the United Nations' 2030 Agenda, through investments of over Euro 1.9 billion in the 2021-2024 Plan, which amount to 60% of our total investments.
The Group's Strategy is based on the three strategic focal points: the environment, socio-economic factors and innovation, in order to achieve commercial and industrial growth, while using increasingly sustainable business models and addressing the opportunities offered by new technologies and the digital evolution in the best possible way.

In 2017, the Hera Group was welcomed into the prestigious Ellen MacArthur Foundation, a community the leading global businesses that are setting themselves apart for their commitment to the transition to a circular economy.
This approach describes a clear strategic direction that gives us the momentum to deal with future challenges against a background of major changes, with a strong drive towards the transition to a circular economy, while maintaining a deep-rooted relationship with our stakeholders and respect for the area where we operate every day.
We pursue our activities aiming to gradually reduce our environmental impact, paying attention not only to our carbon footprint, but also to our water footprint and to the exploitation of natural resources in general.
Seleziona il tuo comune
HeraAssetPublisherFilterComuneSelector