Plants

Condividi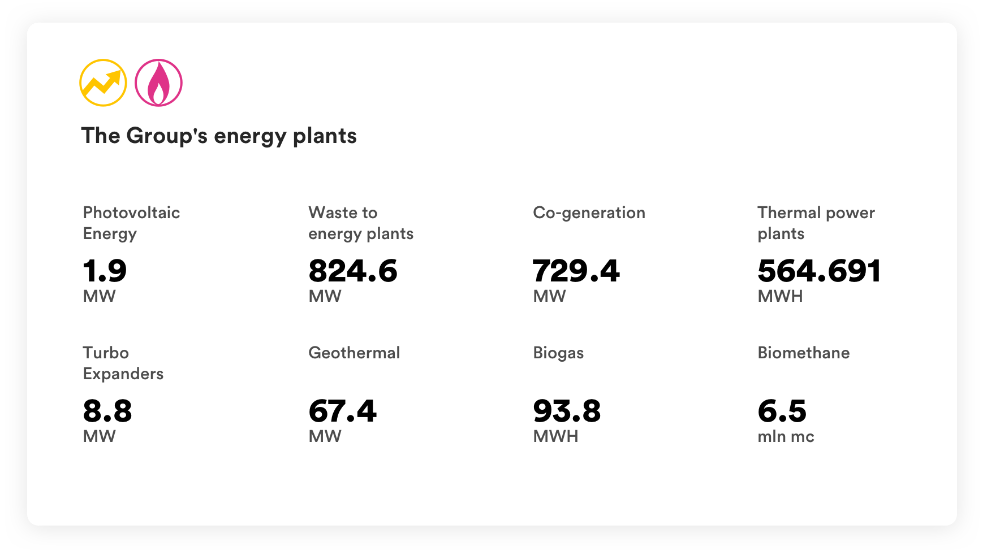 The key words of our plants

Our plants transform matter into clean energy. Energy that comes from waste, recovered and separated, or from renewable sources, such as solar energy and geothermal energy. It is here that we set in motion our vision of the circular economy: to produce energy capable of creating value, with a positive impact on the environment, people and the entire area.
What are the key words that characterize our plants and the energy they produce?

WASTE-TO-ENERGY PLANTS: we have 10 waste-to-energy plants, with a total installed electrical capacity of over 130 MW, thanks to which we produce thermal and electrical energy from the combustion of waste. Nine of our waste-to-energy plants are used for municipal waste. The energy they produce is considered to be 51% from renewable sources (the biodegradable share of the waste used). Three of them, moreover, recover thermal energy to supply nearby district heating networks.

GEOTHERMAL WELLS: the Ferrara power station is complemented, in the production of thermal energy, by geothermal wells located in Casaglia (FE), from which we take heat from underground as the main source of the district heating system.

BIODIGESTERS: we own biodigesters in Rimini, Lugo (RA), and Cesena. Each of the biogas cogeneration plants has an electrical power of about one MW. In nine landfills and in the Faenza biomass power plant operated by Enomondo, a company in which Herambiente holds 50%, some biogas plants are also active.

COGENERATION: our wastewater treatment plants in Bologna, Cesena, Forlì,and Savignano sul Rubicone (FC) have cogeneration plants that are part of our integrated water system. We use the biogas produced by the treatment of sewage sludge to produce electricity which is typically used by the sites themselves. AcegasApsAmga also operates a cogenerator fuelled by natural gas with an electrical power of 500 kW and two biogas cogenerators installed in major wastewater treatment plants, with a total electrical power of about 500 kW.

TURBOEXPANDERS: there are four turboexpander plants in the Emilia-Romagna area (Bologna, Forlì, Ravenna, and Ferrara) that generate electricity by exploiting the gas pressure differentials in the distribution network. In 2019 we added a fifth plant in Bologna, at one of the largest distribution stations serving the city. There is an approximately 2 MW turboexpander on the gas network in Padua, operated by our AcegasApsAmga subsidiary.

PHOTOVOLTAIC: Our offices and plants in Bologna, Ferrara, Imola, Faenza, Cesena, and Ravenna have photovoltaic systems with a total power of 150 kW, in addition to those installed in the power plants of Mordano (BO), Lugo (RA), Pozzilli (IS), and Rimini, for a further 1.7 MW. AcegasApsAmga also operates three photovoltaic plants with a total power of over 100 kW.

BIOMETHANE: The new Sant'Agata Bolognese plant became fully operational in 2019. The biomethane it produces from the organic fraction of separately collected waste is fed into the local distribution network.

ENERGY PRODUCTION: In addition to the above renewable energy production plants, we operate plants that efficiently generate energy, among which the 85 MW Imola cogeneration plant as well as 10 other smaller cogen-and trigeneration plants, for an additional total installed capacity of 27 MW of electricity.

| Electric and thermal capacity | 2019 | % |
| --- | --- | --- |
| Installed renewable capacity | 92 | 30% |
| Electric power cogeneration + turboexpansion | 152 | 49% |
| Other | 65 | 21% |
| Total installed capacity | 309 | 100% |
| Thermal renewable capacity | 53 | 7% |
| Cogeneration thermal capacity | 131 | 18% |
| Other | 555 | 75% |
| Total thermal capacity | 739 | 100% |

The data do not include the Sant'Agata Bolognese biomethane plant which has a production potential of 7.5 mln of biomethane.
Electric power: renewable electric power includes biogas, photovoltaic, and 51% of waste-to-energy plants (the share considered renewable); Other includes 49% of waste-to-energy plants (the share considered non-renewable). Thermal capacity: renewable thermal capacity includes biogas, geothermic, and 51% of waste-to-energy plants (the share considered renewable); Other includes 49% of waste-to-energy plants (the share considered non-renewable) and heating plants.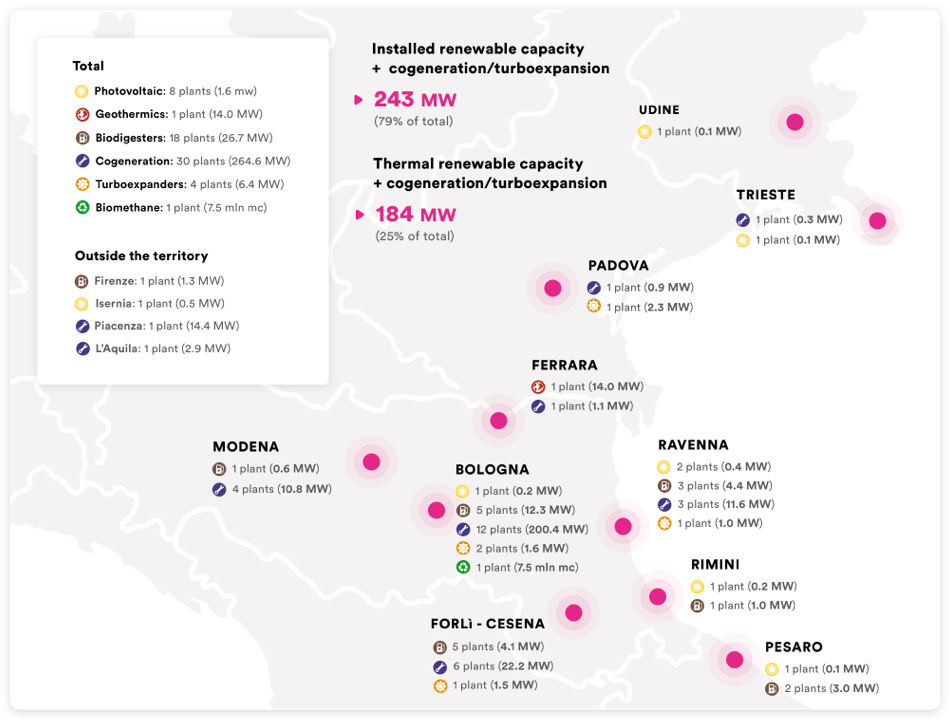 Seleziona il tuo comune
HeraAssetPublisherFilterComuneSelector