Dividend

Condividi
Dividend paid in 2020: 10 euro cent
Dividend expected to 2024: 12.5 €cent
Hera, thanks to the increased cash flow expected by the new business plan, foresees a constantly increasing financial solidity, which leads to growing shareholder satisfaction.
To learn more: Share key data 2003-2019

Dividend history

The dividends per share paid by the Group have always been, over the last 18 years, either constant or increasing.


As evidence of steady growth, in 2016 Hera was included in "SPDR S&P Euro Dividend ARISTOCRATS UCITS ETF", a basket created by State Street Global Advisors (SSGA), a division of State Street Corporation which is currently considered the third largest operator worldwide assets.
In this basket only 40 European equities are included, characterized by:
• A track record of over 10 years of constant dividend payment
• A stable/growing dividend in all the period

Future targets

In order to guarantee higher visibility for its shareholders as regards future dividends, Hera has decided to pursue a dividend policy that expects dividends to rise until 2024, reaching 12.5 €cents.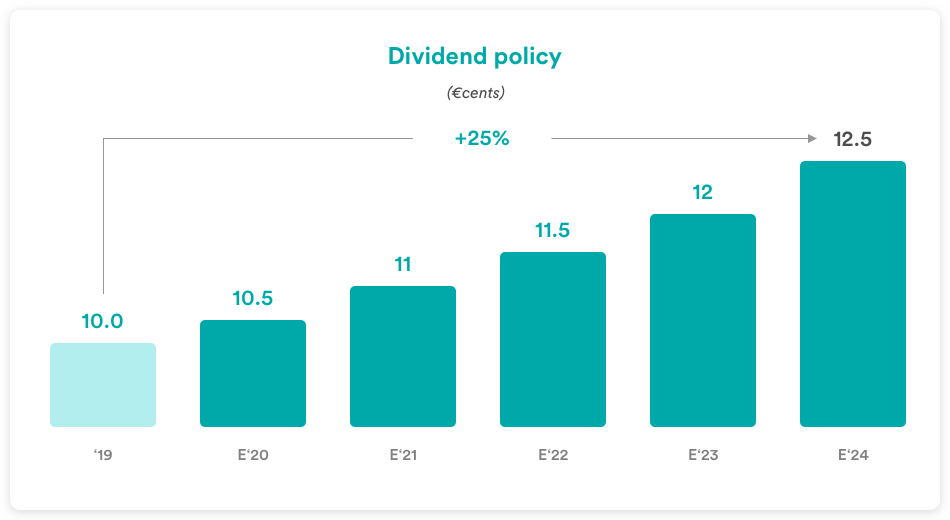 EARNING PER SHARE AND DIVIDEND TRACK RECORD
| INDEX | CAGR.% 02-19 | 2019 | 2018 | 2017 | 2016 | 2015 | 2014 | 2013 |
| --- | --- | --- | --- | --- | --- | --- | --- | --- |
| Earing per share (€) | +11.4% | 0.262 | 0.192 | 0.171 | 0.141 | 0.129 | 0.111 | 0.116 |
| Dividend per share (€) | +6.4% | 0.10 | 0.10 | 0.095 | 0.09 | 0.09 | 0.09 | 0.09 |
Page update 13 January 2021
Seleziona il tuo comune
HeraAssetPublisherFilterComuneSelector