Shared value
By adopting this shared value approach, Hera develops business activities that generate operative margins and provide response to "global agenda" drivers, the ''calls to action'' and change in the respective areas of competence indicated by international, European, national, and local policies.
Creating shared value requires the analysis and redefinition of the company's strategies and plans, so as to incorporate social and environmental needs into our business.
It is a new challenge, to identify new development and evolution areas for our products and services.
"Companies can create shared value through policies and practices that enhance their competitive advantage while simultaneously addressing society's new challenges and the social and environmental needs of the communities in which they sell and operate. Porter and Kramer."
How we create Shared Value
Hera Group creates shared value in all its activities that generate operating margins and meet the objectives of the UN's 2030 Global Agenda.
Our strategic approach identifies three change drivers and nine impact areas, each with concrete commitments and targets.
In turn, they are all linked to the 11 Goals of the UN's 2030 Global Agenda and to Hera's objectives for sustainable development that we have identified as priorities for our businesses.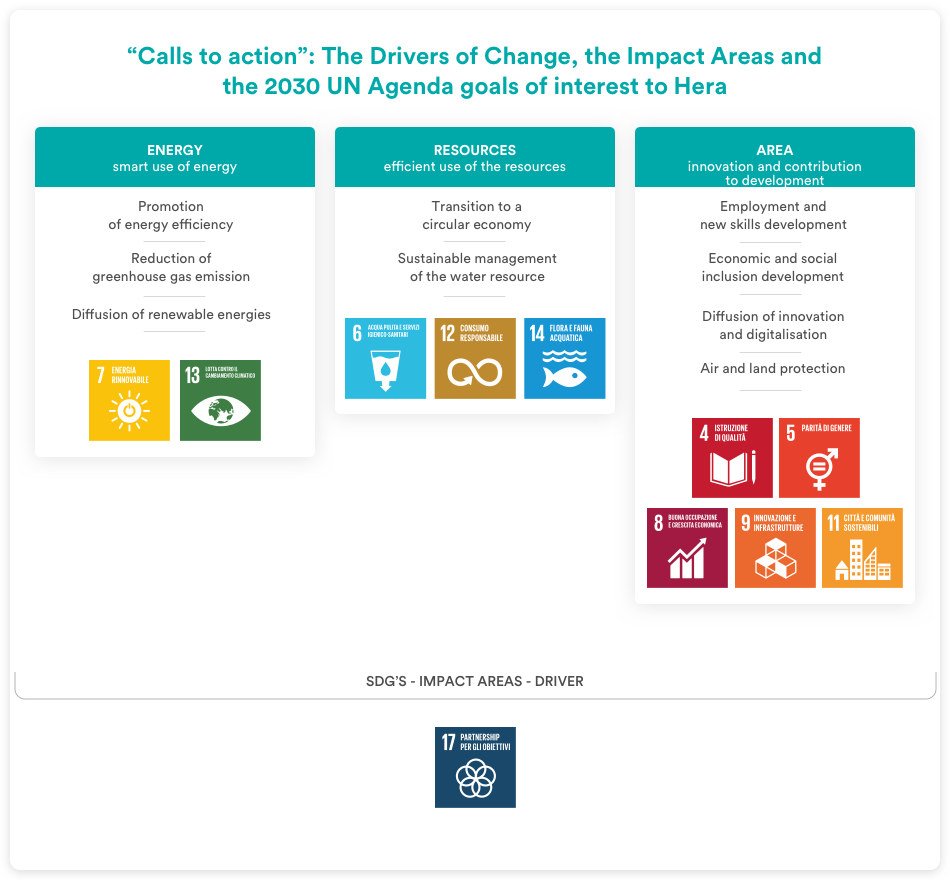 The relationship between CSR and CSV
For us, shared value creation (CSV) is fully incorporated into the Group's strategy and sustainability strategy. This is thanks to an evolution of Corporate Social Responsibility (CSR), which has always been very important for our company's operations, increasing will increase our ability to create shared value.
In 2019, the Hera Group invested approximately Euro 202.4 million in initiatives and projects aimed at creating shared value.
These investments am ount to 39.7% of the overall investments made by the Hera Group.
The importance of our relationship with the local area
Being rooted in our local areas is one of our distinctive traits. We have always been committed to cultivating a long-term relationship and a tangible environmental and social impact with citizens, organizations, customers, and institutions.
We collaborate with local organizations with tools to listening and engage, to implement initiatives that increase the benefits for society and the environment. We know that the best projects are those that pool energy to build the future together. We also provide substantial evidence of our commitment to reporting the results we have achieved in the "Stories of shared value", a new section of our Sustainability Report as of the 2018 edition. The new stories focus on how we represent the shared value we generate in each of the areas in which we operate.
We count on involving people
We create awareness-raising tools and initiatives to encourage positive behaviour. For example, to discourage sting resources, to recover material, and workshops to promote innovation and sustainability.

Page update 15 February 2021
Seleziona il tuo comune
HeraAssetPublisherFilterComuneSelector