How we measure Shared Value

Condividi
Our approach to 'Creating Shared Value' also includes a practical measurement system: the measurement of the "shared value" EBITDA - Gross Operating Margin - generated during the year by our Group's activities in response to the Global Agenda priorities.
Starting from 2019, the measurement of the "shared value" EBITDA is also verified by the independent auditors that verify the Sustainability Report. The calculation methodology includes specific criteria that analyse the businesses we operate, consistently with the drivers we have identified, and the impact areas to create shared value.
In 2019, our "shared value" EBITDA amounted to Euro 422.5 million (38.9% of the total), up 12.6% compared to the previous year. This result is in line with our 2019- 23 Business Plan, which was designed to ensure that 42% of our 2023 EBITDA will come from business activities that meet the priorities of the Global Sustainability Agenda.
The main contribution is from activities and projects that are aimed at the efficient use of resources (Euro 287.6 million), followed by those related to innovation and contribution to development (around Euro 82.5 million). Smart energy use will contribute Euro 75.2 million in 2019.
How we respond to the global scenario
The "shared value" EBITDA we generated in 2019 is mainly from activities and projects that respond to the Resource Efficiency "call to action" of the Global Agenda. In fact, among the corporate priorities we based on the objectives of the UN's 2030 Agenda, there is the transition to a circular economy, in which the Hera Group has, and will increasingly have in the future, an important role, and the sustainable management of water resources.
About 18% of the "shared value" EBITDA is achieved through initiatives that promote energy efficiency and the widespread use of renewable energy. In addition, the 14% comes from the contribution to innovation, achieved by digitalizing our operational processes and services, and from a development path that is inclusive, environmentally-friendly, and stakeholder-focused, such as involving social cooperatives to provide municipal waste collection services.
Lastly, in the field of air and soil protection, the most significant share of the "shared value" EBITDA comes from the district heating service, for the heat generated by cogeneration and energy recovery from the combustion of municipal and industrial waste.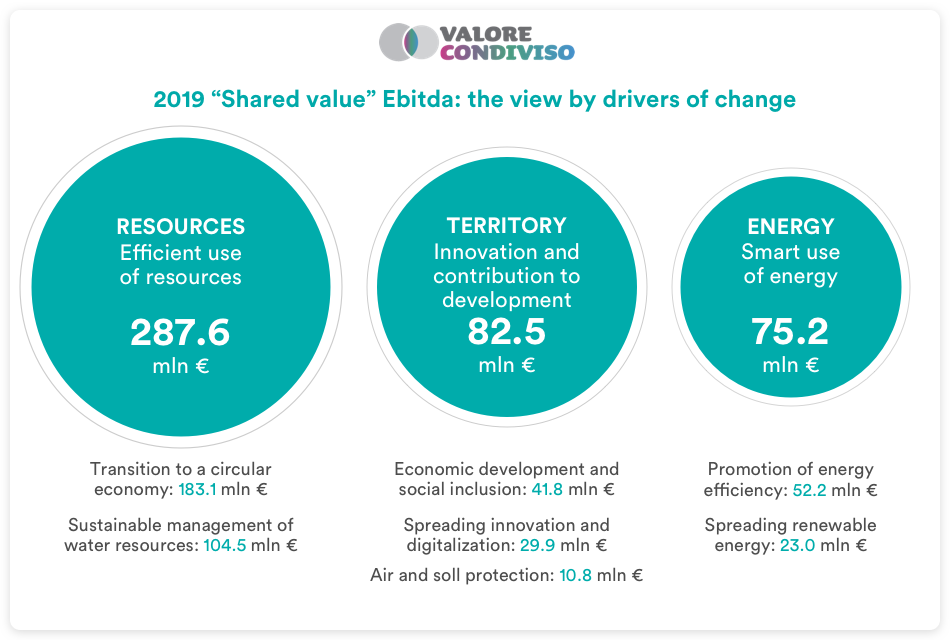 Page update 15 February 2021
Seleziona il tuo comune
HeraAssetPublisherFilterComuneSelector