Financial targets

Condividi
In line with the Group's history, the new Plan continues to expect growing results, thanks to a scenario that shows good opportunities in the areas in which Hera operates. The goals of increasing value creation, cash generation and dividends have been confirmed. Ebitda in 2024 is expected to grow by +215m€ compared to the previous plan, reaching a total of 1,300 million Euro.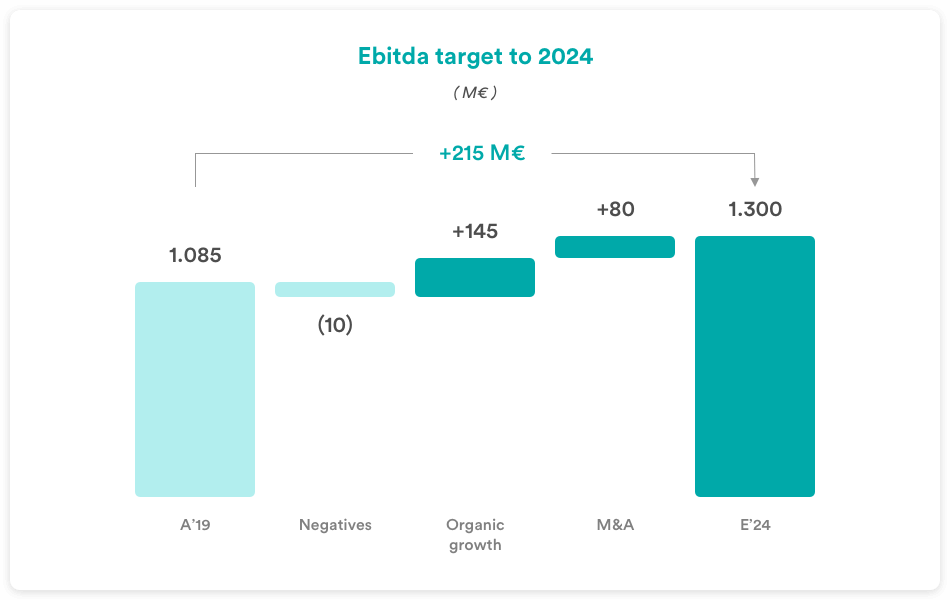 Seleziona il tuo comune
HeraAssetPublisherFilterComuneSelector
FINANCIAL TARGETS AND ACHIEVEMENTS
---
EBITDA
OBJECTIVE

Reaching an Ebitda coming to 1,300 m€ in 2024, with +215 m€ up compared to the target included in the plan to 2023 and in line with Group's historical results.

1,300 mln €

DESCRIPTION

This objective is to be reached through different growth levers, both internal (+145m€) and external (+80m€), able to offset a few negative effects foreseen (-10m€).

ACHIEVEMENTES

The preliminary year-end data for 2020 indicates growth in Ebitda coming to +33m€, despite the -43m€ in negatives due to Covid pandemic, the mild winter temperatures and the end of a few incentives for renewables. In the first year of the Plan, preliminary data show a growth of +2.7%, outperforming the expectations of the old Business Plan to 2020.
---
FINANCIAL POSITION
OBJECTIVE

Maintaining the Net debt/Ebitda ratio below 2.8x in 2024.

<2.8x

DESCRIPTION

The Business Plan intends to maintain the company's solid financial position through the continuous monitoring of all risk factors, careful management of cash flows and the achievement of important operational synergies.

ACHIEVEMENTS

The preliminary year-end results for 2020 show a decrease in the Net debt/Ebitda ratio, from 3.0x to 2.9x (including the notional debt related to the operation on EstEnergy). This result outperformed the target of the old business plan to 2020.
---
DIVIDENDS
OBJECTIVE

Paying higher dividends: from 10 cents per share in 2019 to 12.5 cents per share in 2024 (+25% compared to the last dividend paid in 2019).

12,5 c€

DESCRIPTION

The plan's cash generation allows for a policy of increasing dividends, guaranteeing better financial solidity in 2024 than in the previous plan. Dividends are expected to rise by 0.5 €cents "every year".

ACHIEVEMENTS

The shareholders' meeting held on 29 April 2020 approved the allocation of a dividend of 10 cents per share, which was paid on July 7, 2020, in line with the goals of the old Plan.
Achievement of previous plans
The Hera Group has reached the goals set in its last three five-year business plans to 2018, 2019 and 2020, demonstrating that it is capable of operating with stability and solidity, able to guarantee a continuous creation of value for its stakeholders, slightly outperforming its operating-financial targets.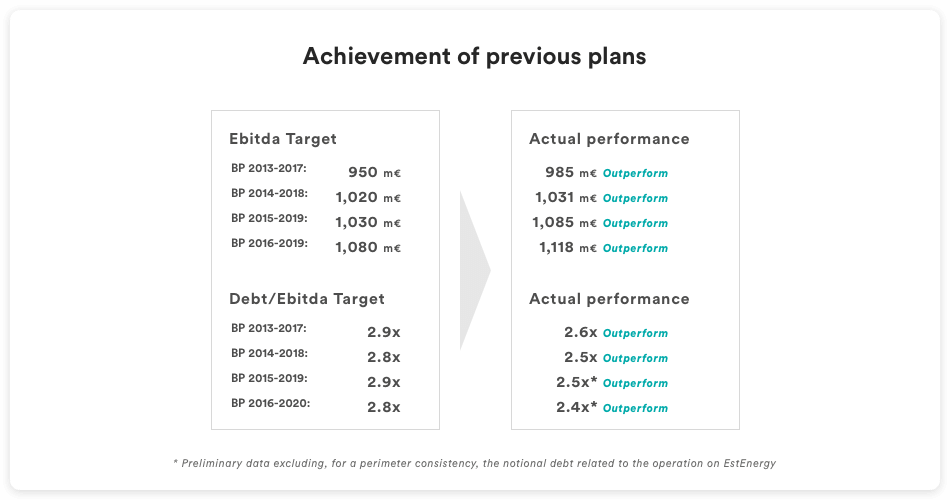 Page update 13 January 2021
Seleziona il tuo comune
HeraAssetPublisherFilterComuneSelector