Scenario and Megatrend

Condividi
The macro-economic scenario seen in Italy in 2019 led to a slowdown, with growth in GDP coming to +0.2% over the previous year. Projections for 2020, instead, points towards a recession coming to -9.5% due to the Covid-19 health emergency (source: European Commission). Italy's GDP should return to a trend of growth in 2021, with a rise coming to +6.5%.
Utilities Scenario


Through the Cottarelli Plan, in 2014 the Government showed that there is a clear, substantial surplus of operators in the local public services, entailing major efficiency / rationalization margins as well as growth opportunities for the largest and most efficient operators in the industry.
Irrespective of some perimeter variances, a recent study by Utilitatis confirms the size of the industry (about 1,100 providers) as well as the current rationalization margin. Surveyed companies generate a global turnover of about € 50 billion and employ more than 200,000 direct and indirect resources. In view of the consolidation expected from the gas bids and from channelling water cycle and urban sanitation into provincial ambits, the streamlining is estimated to involve about 800 operators. Assuming an eventual alignment of current underperformers to best practices, a 1.5 billion € overall benefit is estimated.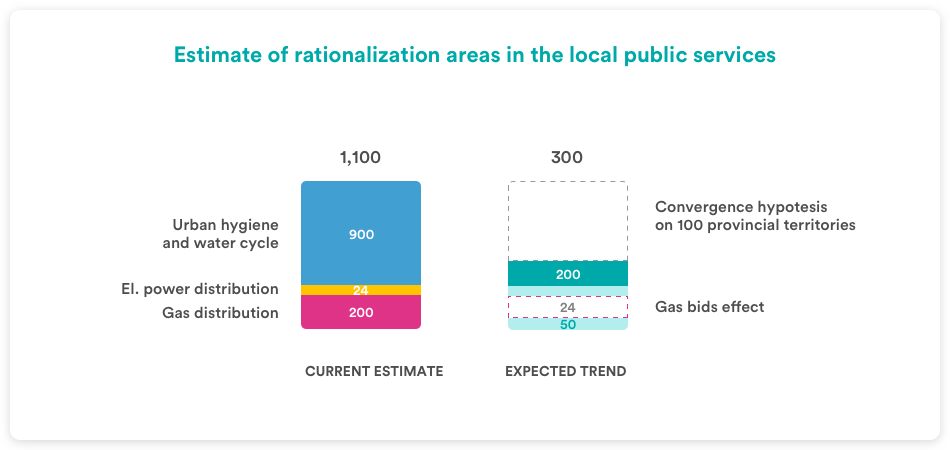 This excessive fragmentation opens significant room for changes leading to company grouping in all public utility sectors, with benefits coming from the economies of scale, efficiency and improved service quality gained .
Seleziona il tuo comune
HeraAssetPublisherFilterComuneSelector