Solutions for City councils

Condividi
HERA SpA offers interested cities, its services related to the new Smart, Safe, Sustainable city model.
As shown, the service can be provided in Steps: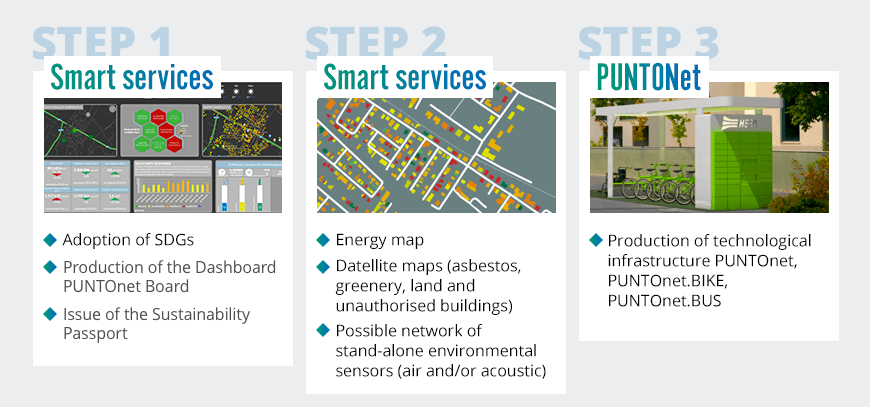 The description of each individual step is set out below.
Adoption of SDGs
The City council will adopt the Sustainable Development Goals (SDGs) of the UN 2030 Agenda. These goals are the centre around which the new city concept described in this document will be developed.
Production of the Dashboard
The IT platform, as described in Chapter 3, will be started and fed with data coming from the city.
Issue of the Sustainability Passport
It will include the computerised development of the Sustainability Passport, the technical support for collecting the local data so as to feed the service and subsequent updates where it is not possible to carry out automation through computer procedures.
Energy map
The Energy Map service will be activated on the Dashboard and will be updated once a year.
This service will include geocoding, annual data flow management and Data Analysis.
Satellite maps
Satellite maps of the fields of study described will be activated.
Environmental sensor
The City council can request the installation of sensors for environmental monitoring. The sensors can be air and acoustic sensors contained in a single box, air only or noise only according to the request made.
Supply and installation of PUNTOnet,PUNTOnet.BIKE, PUNTOnet.BUS technology stations, inclusive of:
Painted metal structure
Coverings
Photovoltaic roof
Electric equipment and charging points (for portable devices and triride)
Hardware for video surveillance (six cameras per station)
Hardware for wifi
Environmental sensor box (air + noise)
Package deposit cabinet
Six e-bikes
The solutions are modular so some of the services listed above can be excluded and others added.
The parties will agree upon the installation points and identify the best conditions for connecting the centres to the existing electricity and data networks.
The local video surveillance service can be activated by the City council, which will bear the running costs and data network connectivity costs.
The City council can activated the public Wi.Fi. service and will pay the data fee.
The data coming from the services activated at the PUNTOnet technology stations will be processed and represented on the dashboard.
Seleziona il tuo comune
HeraAssetPublisherFilterComuneSelector
Related content