The environmental education activities of the Hera Group

Condividi
The environmental education activities of the Hera Group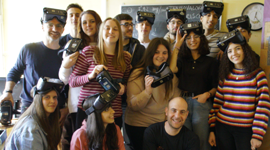 Also this year, the Hera Group has implemented environmental education projects at primary and secondary schools, which are involving over 100,000 students in the areas where the multiutility company operates.
In particular, with the "Grande Macchina del Mondo" (The Great World Machine) and "Un pozzo di Scienza" (A mine of information) courses, the former for the primary schools and the latter for the secondary schools, the company is committed to facing the current environmental challenges by counting on the future generations.
How? By trying to transfer concepts and suggestions that help young people to become citizens of tomorrow, aware of the fact that the environmental resources are running out and the speed at which they are consumed is higher than that at which the Planet Earth can renew them.
Seleziona il tuo comune
HeraAssetPublisherFilterComuneSelector