News from the Hera Group: an increasingly smart way of paying bills

Condividi
News from the Hera Group: an increasingly smart way of paying bills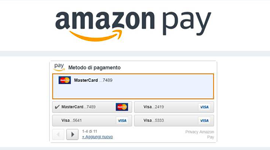 The Hera Group is pressing on the accelerator to improve the user experience: in fact, customers now pay their bills using Amazon Pay, a secure, simple and ultrafast option that can be accessed from the Hera Online Services and the My Hera app.
This is the latest novelty in digital payments, which follows the agreements made over the past few months with Unicredit (Virtual Account), MyBank of PRETA SAS (company controlled by EBA Clearing), Jiffy/BancomatPay powered by SIA and the CBI consortium for the CBILL service.
The multiutility company's commitment to the 2030 UN Agenda and the European Union's strategy for the creation of a single digital market is thus confirmed.
Seleziona il tuo comune
HeraAssetPublisherFilterComuneSelector