Find out how much material is successfully recycled

Condividi
In 2019, we recovered 92% of the green waste, paper, organic waste, glass, plastic, wood, iron, and metal you separated.
The percentages recovered for each type of material are listed below.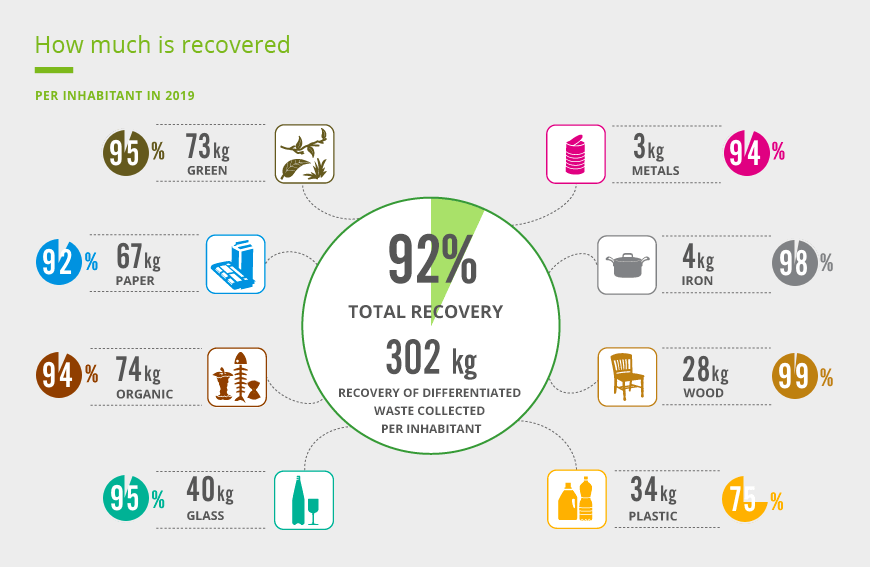 All data refers to recovered (i.e., recycled) municipal waste that has been collected separately. For plastics, the quantity sent to energy recovery was also taken into account. In order to recycle plastic, in fact, it is necessary to separate the individual polymers: the main ones are separated (mainly PET, HDPE, and PP) and the waste remaining that is difficult to recycle, but energy can be recovered from it.
Of all the plastic we recovered, 46% was recycled, while 54% was used for energy recovery. Corepla's data for 2019 shows recycled plastic at 47% and energy recovery at 53%.
For green waste, the amount sent for energy recovery in biomass plants was also taken into account. Of all green waste collected, 84% was recycled, and 16% was used for energy recovery.
Data does not include multi-material collection, which is exclusively for non-domestic customers and mainly located in industrial/handicraft districts (4% of total separate waste collection).
Seleziona il tuo comune
HeraAssetPublisherFilterComuneSelector