Giovanni Basile

Condividi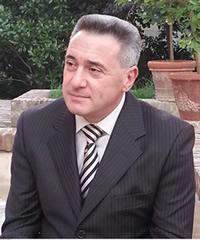 A Tax Advisor and Statutory Auditor, Mr Basile has been a managing partner of the consulting firm Teikos since its establishment in 1999.
He graduated in economics at the University of Modena in 1987. This was followed by consultancy work in organisational restructuring and management control, mainly in the financial sector for Arthur Andersen & Co. Management Consultants. He later took up the post of administrative, finance and control director of the Hydrocar Group, with special duties at foreign subsidiaries (the Group is now indirectly listed on the stock exchange through the Interpump group).
Between 1993 and 1998 he worked with several major consulting firms on restructuring, reorganisation, change management, business start-up, business planning and internationalisation projects in industrial, banking, insurance and healthcare (public and private) organisations, as well as leading operations for rescuing businesses in crisis.
The author of numerous articles and publications on the subject of business management, he has been a senior lecturer at the Federmanager Academy in the area of planning, strategy and internationalisation since 2012, at Alma-Profingest in the area of programming and control from 1992 to 2012 and at various other higher education institutions (CIS Reggio Emilia, Confindustria Pescara and Cremona).
He acted as adjunct professor at the Faculty of Economics at the University of Modena and Reggio Emilia from 1997 to 2003, and as consultant between 1994 and 2004 at the Emilia-Romagna Region (Regional Healthcare Agency) on the "Management Control Project", the "Benchmarking Project" (Regional Health and Social Services Department) and the "Healthcare Companies Financial Statements Certification Project" (Financial and Instrumental Resources General Management).
In addition, he is an administrative director and statutory auditor in joint-stock companies in Italy and abroad, and in non-profit organisations. He is also a member of various evaluation groups in Local Authorities.
LinkedIn profile

Page updated 10 July 2018
Seleziona il tuo comune
HeraAssetPublisherFilterComuneSelector
Related content