Recovery of waste from electrical and electronic appliances (WEEE)

Condividi
WEEE stands for Waste from Electrical and Electronic Equipment. WEEE can become a valuable resource if properly collected and recycled, while if disposed of and treated incorrectly, it can be highly polluting for our planet (for example, refrigerators contain highly polluting substances such as CFCs and HCFCs, which are ozone depleting gases) and miss the opportunity to re-use the raw materials it contains (copper, aluminium, iron, plastic, etc.).
WEEE is divided into five large groups. The waste of each group is processed in specific plants that make it possible to recover different secondary raw materials:
R1 Refrigeration and Air Conditioning
Refrigerators, air conditioners, freezers, etc.
R2 Large Household Appliances
Washing machines, dishwashers, hoods, ovens, etc.
R3 TVs and Monitors
Televisions and screens with cathode ray tubes, plasma LCDs, etc.
R4 Small Household Appliances
Computers and computer equipment, telephones, lighting equipment, photovoltaic panels, etc.
R5 Lamps
Low consumption bulbs, LED lamps, neon lamps, fluorescent lamps, etc.
How is the separate collection of WEEE organised?
WEEE collection is managed and coordinated throughout the country by the WEEE Coordination Centre.
Several types of disposal facilities are available to collect the waste, so many different parties can contribute to increasing the amount of electrical and electronic equipment that has reached its end of life that can be recycled. The main disposal facility types are:
Waste Collection Centres known as Drop-off Points: set up and run by municipalities or companies entrusted by municipalities to handle WEEE. Waste collection centres are open to all residents, to dispose of household WEEE free of charge. Waste collection centres can collect WEEE from one or more municipalities and accept WEEE from the points of sale of retailers, from installers and from repair centres.
Consolidation locations: These are the sites where waste from the "One against One" and "One against Zero" collection is received. They are served directly by the consortia and can be set up at the point of sale of a distributor or at another duly authorized location.
Large users: These are sites registered by public or private organisations (airports, companies, hospitals, barracks, etc.) that produce significant amounts of WEEE in the lighting category (R4 and R5) and can therefore be served by a pick-up provided by the consortia.
Private collection centres: set up by the consortia themselves to receive waste from voluntary collection activities and mainly for lamps.
Installers: these are centres directly served by the consortia and managed by light source installers (R5), where waste is taken by from private households after they change a lamp.
Repair centres and points of sale: These are the retail points of sale and the repair centres where WEEE from private households is collected free of charge against the sale of equivalent household appliances ("One against One").
Treatment plants: These are the companies that provide storage (to a large extent) and/or processing for recycling, recovery and energy extraction of materials.
In particular, the WEEE Coordination Centre provides to the disposal centres household waste and equivalent waste produced by businesses, industries and institutions: it assigns to the Consortia the points where they can pick up the WEEE. The Consortia are tasked with transferring the WEEE to the treatment and recovery plants authorised to do so by the Coordination Centre itself.
Collection in Italy and EU objectives
The volume of WEEE is growing at the European and national levels at much higher rates than other types of waste. According to the latest 2019 WEEE report, 343,069 tonnes were collected in Italy (+10.5% compared to 2018) with a per capita value of 5.68 kg.
European and Italian laws have introduced specific collection, recycling and recovery targets for WEEE, in a circular economy perspective. In particular, the collection target is defined in the European Directive 2012/19/EU and as the ratio of the total weight of the WEEE collected by a member state in a given year to the average weight of the electrical and electronic equipment put on the market by that state in the previous three years. In 2014, the EU revised the target upwards to 65% by 2019: Italy achieved an overall return rate of 39.5% in 2019 (data available at 30 June 2020 from the WEEE Coordination Centre), down from 42.8% in 2018. The decrease can be explained by the fact that the quantities of WEEE treated by plants have increased less than the amount of electrical and electronic equipment (EEE) treated in the 2016-2018 three-year period, which averaged 1,173,756 tonnes (+19% compared to the previous three years). The significant increase in the volumes of Electrical and Electronic Equipment placed on the market can be attributed to the entry into force in August 2018 of the so-called Open Scope, which significantly broadened the categories of electrical and electronic equipment subject to European regulations on WEEE.
In 2018, Italy achieved 5.1 kg/inhabitant of WEEE collected, less than half of France (10.8 kg/inhabitant). The podium of the best performing countries also includes the Netherlands with 9.7 kg/inhabitant and the United Kingdom with 7.4 kg/inhabitant, followed by Portugal with 6.6 kg/inhabitant and Spain with 5.8 kg/inhabitant.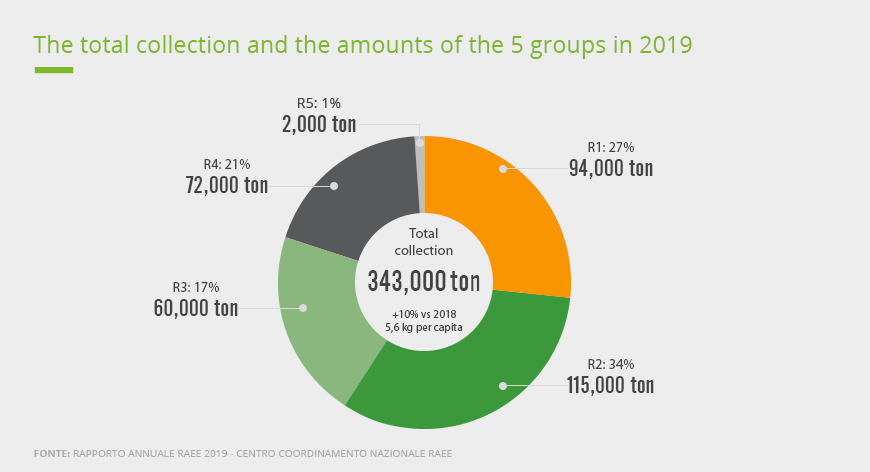 Hera's role in WEEE collection in Italy
Hera signed an agreement with the WEEE Coordination Centre to make its collection centres available for disposals by citizens, distributors, installers, and repair centres.
The Hera Group is the leading Italian partner of the WEEE Coordination Centre: it manages 169 waste collection centres that collect over 5% of all the overall collection of WEEE in Italy: about 18 thousand tonnes.
In addition to the separate waste collection centres, containers for collecting small household appliances are located in Hera's service area, located mainly in shopping centres. Hera also provides a mobile station with an operator. Currently, 13 "WEEE Point EVO" and 21 "WEEE Shop EVO" for the collection of small WEEE are set up in Hera's service area, distributed among the various provinces, mainly at shopping centres. The "Mobile" model is also active in the Bologna area. It offers scheduled itinerant collection and collects all types of WEEE. In 2019, almost 38,000 items were disposed of in the WEEE Shops, and WEEE Points and almost 6,000 were handed over to the mobile collection service.
THE COLLECTION OF THE MAIN SIGNATORIES
| | QUANTITIES COLLECTED IN 2019 (TONNES) | % |
| --- | --- | --- |
| Hera Group | 17,945 | 5% |
| Alia Servizi Ambientali | 8,202 | 2% |
| Iren Ambiente | 5,996 | 2% |
| T.A.D. Trasporti a Domicilio | 5,365 | 2% |
| Amsa | 5,047 | 1% |
| Servizi Ecologici Integrati Toscana | 4,636 | 1% |
| Veritas | 4,489 | 1% |
| FastEst | 3,902 | 1% |
| Dismeco | 3,752 | 1% |
| Delta Group | 3,632 | 1% |
| Other signatories | 280,072 | 82% |
| Total | 310,610 | 100% |
Source: Our processing of WEEE Annual Report 2018 - National WEEE Coordination Centre
Compared to the Italian average per capita of 5.6 kg/inhab, Emilia-Romagna boasts a per capita collection of 8.0 kg/inhab (+6.8% compared to 2018 and third at the national level trailing only Valle d'Aosta and Sardinia), with a record peak of 13.3 kg/inhab in the province of Bologna
The WEEE collected by the Hera Group in 2019 amounted to 7.4 kg/inhab (7.9 kg/inhab in the local areas of Emilia-Romagna, 7.1 kg/inhab in Triveneto and 5.5 kg/inhab in Marche), up 37% compared to 2018. This result is higher than the Italian average of 5.6 kg/inhab, which includes both the portion of WEEE collected directly at the collection centres managed by the Group in the area and the "one against zero" and "one against one" disposals made by consumers through the large-scale retail channel and the retail channel.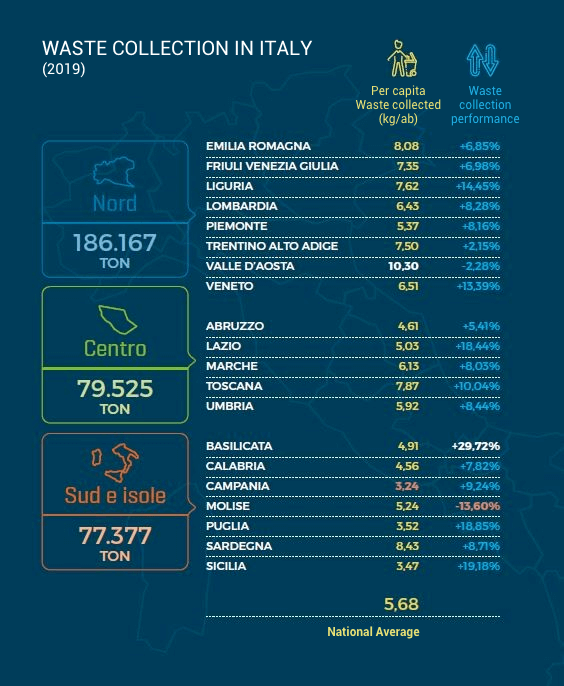 The first destination of WEEE collected by Hera
Through the WEEE coordination centre, the Hera Group delivers the waste collected at the initial processing facilities indicated by the following 14 consortia:
Apiraee
Cobat RAEE
Consorzio ERP Italia
Consorzio RLG
Ecodom
Ecoem
Ecolamp
Ecolight
Ecoped
Esa Gestione R.a.e.e.
ERP Italia SCARL
PV CYCLE Italia Consorzio
Remedia
Ridomus
The initial processing facilities dismantled, disassembled, recovered and sent to other recovery plants the materials present in the electronic waste. The 12 first-destination WEEE plants for 2019 were (in descending order of quantity received):
Tred Carpi S.r.l. (Carpi (MO))
Specialtrasporti S.r.l. (Sala Bolognese (BO))
Dismeco S.r.l. (Marzabotto (BO))
Nec Ecology S.r.l. (Fossò (VE))
Sider Rottami Adriatica S.p.A. (Pesaro (PU))
Ferraresi Commercio Rottami Srl (Copparo (FE))
S.E.Val S.r.l. (Colico (LC))
Sea Ecoservizi S.p.A. (Romano D'Ezzelino (VI))
Puli Ecol Recuperi S.r.l. (San Severino Marche (MC)
Nial Nizzoli S.r.l. (Correggio (RE))
Stena Technoworld S.r.l. (Angiari (VR))
Vallone S.r.l. (Selciatella (FR))
Recycling of WEEE collected by Hera
Considering the data of the 8 consortia that receive 84% of the waste collected at Hera's waste collection centres, 90% of the waste collected was sent to recycling. We get mainly iron, steel, plastics, aluminium, copper, and glass from the sorting done in the plants.
Waste disposed of in landfills accounted for 6% of the quantity collected, while the remaining 4% was used for energy recovery
he 5 rules for proper disposal of WEEE
Remember that WEEE can turn into valuable resources if properly disposed of and recycled, but at the same time if not properly processed it can become extremely harmful to the environment. Think of a refrigerator: if properly recovered, it can yield 28 kg of iron, 6 kg of plastic and over 3 kg of copper and aluminium. If improperly disposed of, it can release into the environment highly polluting and harmful substances such as CFCs
(chlorofluorocarbons), HCFCs (hydrochlorofluorocarbons) and other ozone-depleting gases.Never leave WEEE in the non-separated collection bins, never dump it in the environment and never forget it in your garage, attic or at home.
Take your WEEE to the nearest drop-off point that you can locate with the help of the "Rifiutologo (Wasteologist)" app. It is essential that this type of waste is properly disposed of: by doing so, you ensure that it goes through totally transparent, legal and traceable recovery cycle, for the good of the environment and the community.
If you buy a new appliance, give the old one to the shopkeeper, who must collect it free of charge ("one-against-one" collection). If it is not bigger than 25 centimetres, you can also dispose of it free of charge, under the "one-against-zero" option, by giving it to retailers with a sales area of over 400 square meters, without being required to buy a new one.
Request at-home collection of bulky WEEE: this is a free service available in many municipalities (book a collection on the app or by calling the toll-free number 800.999.500 from both fixed and mobile phones). In many municipalities the Cambia il finale (Change the Ending) project is active in order to donate bulky items in good condition to the non-profit organizations of the area (more information on /insieme/progetti/cambia-il-finale)
Seleziona il tuo comune
HeraAssetPublisherFilterComuneSelector