La Fraternità - Social Cooperative

Condividi
Recooper is a non-profit activity that deals with the collection of circular and sustainable materials; it coordinates their distribution and sale aimed at recovery. With the proceeds, it provides employment to people facing hardship and creates new jobs, it financially supports local associations and organizes re-use education initiatives.
Recooper is a project of the Ecobi consortium, implemented by the social cooperatives La Fraternità and La Piccola Carovana.
The name represents an idea, a thought, a set of words, in short, the magic formula that amounts to the glue that holds them all together.
Re: anticipates the repetition of an action, recalling the heart of the communicative concept: education on re-use. Coop: the world of cooperation at the heart of the project. Er: the area it starts from, Emilia-Romagna.
Recooper wants to be an active player in recovery and re-use education, to enhance the concepts of responsibility, good practice, and sustainability. Recooper helps people "behave well" and provides a more convenient and direct collection system for citizens.
Recooper aims to communicate collection and re-use in a new, different, more ethical way, by offering innovative collection services to serve schools, offices, and parishes, or at home and with interactive tools such as the online igloo bin map and involving institutional and private partners. Recooper wants to be the brand under which Emilia-Romagna's social cooperatives can join together as a single entity to provide collection, recovery, and re-use services.
To date, the organization is engaged in recovering used clothing, used oil, toner, and cork stoppers; they work to make these flows more efficient and are attentive to new virtuous collection opportunities. Our values:
Transparency: ensuring the traceability and ethics of the textile cycle;
Reuse/respect for the environment / circular economy: to recover existing materials and reduce energy consumption along the supply chain;
Positive social impact: to foster re-employment for people in need;
Economic impact: to support local and developing country humanitarian projects and create new products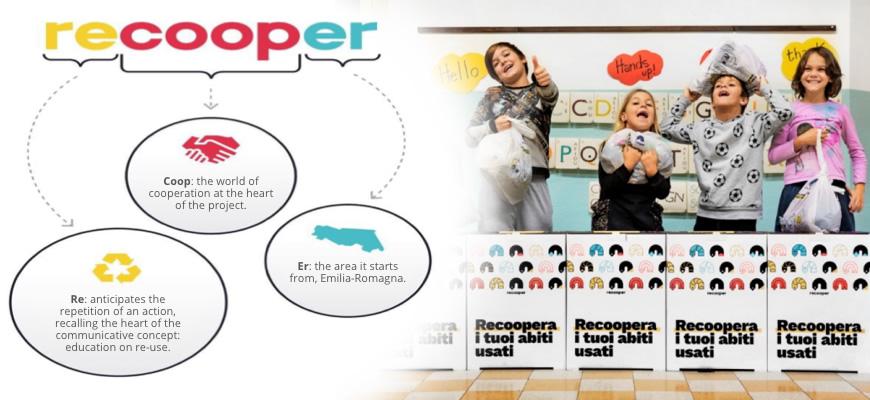 In the Bologna area and its province, Recooper handles the used clothing collection service on behalf of Hera. To do so it uses 1,200 bins for collection, employs 37 workers of which 19 are disadvantaged, and has 16 vehicles.
In 2019, La Fraternità collected 2,833 tonnes of used clothing just in the Bologna area, through roadside bins.

The clothes collected by Recooper are taken to Mercatale di Ozzano Emilia (BO) at the R3-R13 plant owned by the Fraternity, subjected to separation to eliminate fractions of waste or scrap, and then sanitized, so as to put them back on the market and give them a second life. With the proceeds, Recooper provides new jobs, financially supports local associations, and organizes re-use education initiatives.
More information on www.recooper.it
The destination of the textiles collected by La Fraternità in 2019
Since 2012, Recooper has been a member of the "Farsi prossimo" consortium in Milan, a branch of Caritas Ambrosiana and reference point of the RIUSE network for the collection and re-use of used clothing and apparel for occupational, environmental and solidarity purposes. It supports SHARE (Second Hand Reuse), a project for the re-use of used clothes through a network of non-profit shops throughout Italy, managed entirely by type B social cooperatives that has set up some stores, created new jobs and offers their working style to the general public. The profits from the sales are used on in the local area for social, non-profit, and innovative purposes. https://www.secondhandreuse.it/chi-siamo/
In addition to re-use in Italy, Recooper supports TESS GEIE (Textile with Ethical Sustainability and Solidarity), a European group up of the main non-profit players in the world of textiles, ethical sustainability and solidarity. The aim is to build a network capable of meeting the challenges of the textile industry concerning the circularity of resources, ensuring an ethical and transparent approach to the recovery of textile products, by marketing used textiles, supporting the creation and development of recycling centres in Africa and Latin America, sharing expertise among companies in the social economy, and relying on solidarity.
TESS is committed to building an economic alternative that respects people and their environment. TESS aims to give new life to 100,000 tonnes of used clothing every year.
For over 20 years TESS sorting centres have been selecting the best quality "summer mix" also called "African mix" or "tropical mix", as well as "winter mix". The mixtures are produced by sorting the original material from the collection in local areas. This mix contains garments for babies, children, women, men, and household items. TESS sells summer and winter mixes all over the world. https://tess-geie.eu/en
Recooper is a member of the RREUSE network, which brings together and represents global social organizations that focus on re-use, repair and recycling.
The goal is to encourage the EU and national governments to move forward from just promoting recycling and waste management to making them the first step. They are asking the European Commission to promote re-use targets above recycling in their revised circular economy package.
Reuse is committed to intelligent legislation aimed at increasing the durability and reparability of products; this is crucial for environmental protection.
Thousands of jobs can be created by developing re-use centres and networks.
Many re-use centres in Europe employ thousands of people traditionally at risk of social and financial exclusion. https://www.rreuse.org/
Seleziona il tuo comune
HeraAssetPublisherFilterComuneSelector