Humana People to People Italia

Condividi
HUMANA People to People Italia ONLUS is a humanitarian organization founded in 1998 with the twofold objective of creating and financing international cooperation projects in the South of the World, and social and environmental projects in Italy.
HPP Italia ONLUS is a member of the International HUMANA People to People Federation which, through its 31 organisations, currently manages more than 1,150 projects in 45 countries in Africa, Asia, Europe and America. Currently, HUMANA's projects benefit 15.5 million people.
The separate collection and recycling of used clothing is one of the main fund-raising methods used by the organisations belonging to the HUMANA People to People Federation.
In Italy, this work is carried out by HUMANA People to People Italia Società Cooperativa a r. l. which, in accordance with its Statute, allocates the resources generated by the collection, separation and sale of used clothing to HPP Italia ONLUS, which carries out and finances social and environmental projects in the North and South of the world. HUMANA is present in Italy with over 5,600 containers in 1,200 Italian municipalities and handles about 25,000 tonnes of used clothing per year.
In 2019, HUMANA People to People Italy collected 932 tonnes of used clothing in the Ferrara area and 1,732 tonnes in the Modena area through roadside separate waste collection bins.
The streams of textile waste collected in the two provinces are taken to an initial storage centre in Rovigo where unrelated fractions are eliminated (e.g., bags containing material other than textile or other unrelated material that must not be put in the used clothing collection containers).
The remaining material is sent to separation plants in Slovakia and Bulgaria (members of the HUMANA Federation) and to other authorized facilities where the material is separated, and then 64.1% of it is sent for re-use or 24.7 % of it is sent for recycling. Of the residual material, 11.2%, part is used for energy recovery, and the rest is disposed of in landfills.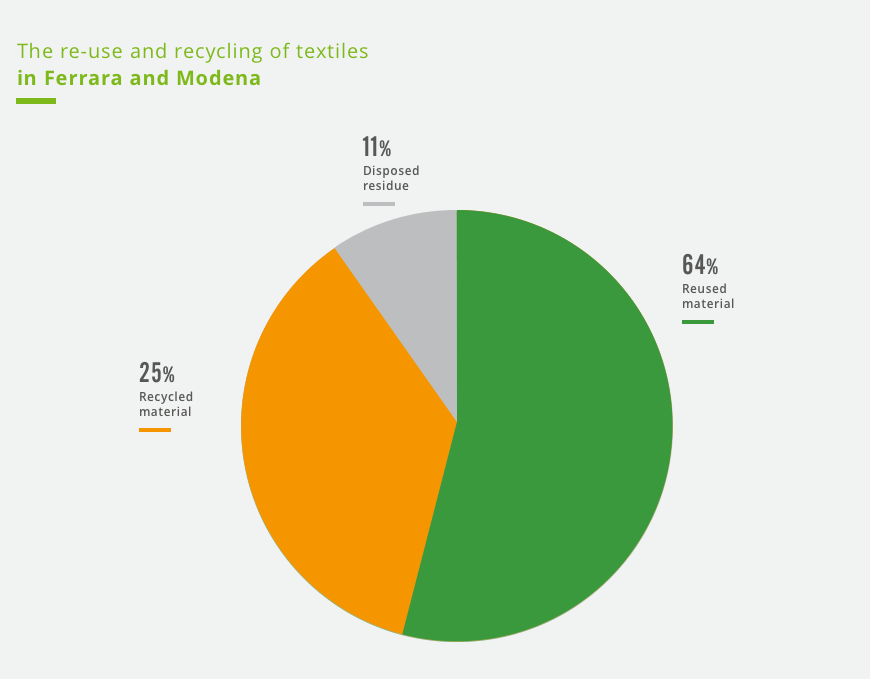 As regards the two plants located in Slovakia and Bulgaria, textiles for reuse were marketed mainly through the following channels:
Re-use through 149 HUMANA solidarity-oriented stores in Austria, Germany, Italy, Poland, Czech Republic, Romania, and Slovakia, accounting for approximately 41% of the total garments recovered;
Sent to HUMANA sister companies operating in Angola, Malawi, Mozambique, and Zambia and members of the HUMANA People to People Federation, accounting for approximately 16% of the total garments recovered;
Wholesale to third-party wholesalers in Bulgaria, Slovakia, Pakistan, and Togo for the remaining 43% of garments recovered.
More than 57% of the garments collected by HUMANA People to People Italia is handled internally within the international HUMANA supply chain. Concerning the supply chain, HUMANA has developed a third-party verification tool (ESET) to ensure an Ethical, Solidarity-oriented, Ecological, and Transparent supply chain. This tool has recently been extended to major customers outside the HUMANA People to People Network. Every year, the international certification body Bureau Veritas Italia carries out audits and issues a certification with respect to the commitments undertaken in the field of ESET.
For more information about the ESET model and on HUMANA People to People see www.humanaitalia.org/ or the sustainability report
Seleziona il tuo comune
HeraAssetPublisherFilterComuneSelector