Better service: safety and continuity

Condividi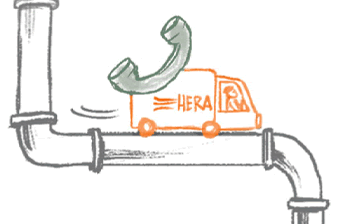 With performance levels that exceed legal obligations, Hera Group closely monitors its network infrastructure and acts promptly when specific actions are required, by minimising waiting times for the technical call centre and all emergency services. This is especially true for gas services thanks to state-of-the-art facilities such as the fluids remote control hub in Forlì and the electricity remote control operations centre in Modena.
Forlì technical services call centre
318 thousand calls in 2019, decreasing compared to 2018
GAS NETWORK LEAKAGES PER 1000 KM
| | 2019 |
| --- | --- |
| Following reports by third parties | 31 |
| Following inspection | 105 |

In 2019, a new gas leak detection programming and management system was introduced, consisting of an artificial intelligence platform with machine learning algorithms for the programming and optimization of inspections. Thanks to the new inspection and planned research activities, losses detected on the entire Group's gas distribution network were 105 per thousand kilometres of network - they were 71 in 2018. This is to demonstrate the effectiveness of the leaks planned inspection plan on high-risk and obsolescence networks. On the other side, the losses reported by third parties on the Group's gas distribution network were 31 per thousand kilometres of network - they were 35 in 2018.

RAPID RESPONSE GAS SERVICES
| | 2019 |
| --- | --- |
| Calls answered within 120 seconds (90% is compulsory) | 97.4% |
| Average time taken to reach call location (min) | 32.6 |
| Calls with arrival times within 60 min (90% is compulsory) | 97.0% |
Seleziona il tuo comune
HeraAssetPublisherFilterComuneSelector