Bond emission

Condividi
The bond issues and contracted loans are adequate to meet the Group's investment needs and, at the same time, are obtained at competitive conditions, without any interest rate risk.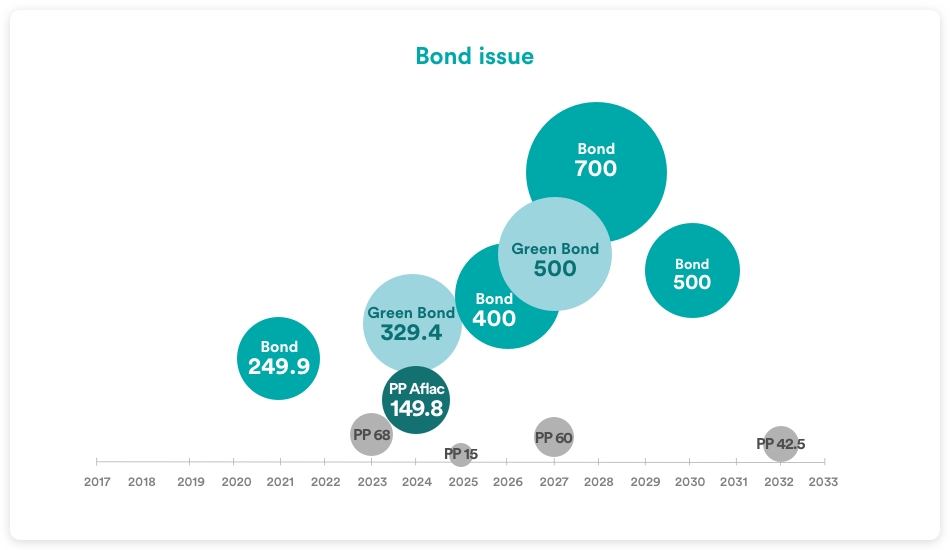 Current cash and lines of credit, in addition to the resources generated by the operating and financing activities, are deemed more than sufficient to meet future financial needs.
Hera's debt is not subject to any"covenant" and the Group has also extensive committed credit lines which, as at 30 September 2020, amounted to € 650 million.
The lines of credit and the corresponding financial assets are distributed among major Italian and foreign banks, and their conditions are highly competitive.
The Group's emissions
The Group's objective is to ensure a liquidity level that can easily cover every contractual obligation, both in the normal course of business and under crisis conditions, through maintenance of available credit facilities, liquidity and rapid undertaking of negotiations with regard to loans about to mature, optimizing the cost of funding in relation to current and future market conditions.
The bond issue optimises the Company debt structure and lengthens its average maturity. The oversubscriptions of the order books and the warm welcome received by Hera show how institutional investors endorsed the industrial and financial strategy of the Company and prove how the Eurobond market represents for Hera a stable source for medium term capital.
Seleziona il tuo comune
HeraAssetPublisherFilterComuneSelector
The Group's emissions summary
BONDS
MATURITY (YEARS)
MATURITY DATE
ISSUE SIZE (€/MLN)
OUTSTANDING (€/MLN)
COUPON PAYMENT
ANNUAL COUPON
Bond
Luxembourg Stock Exchange
8
04/10/2021
500.0
249.9
Fixed, annual
3.25%
Bond
Luxembourg Stock Exchange
10
22/05/2023
68.0
68.0
Fixed, annual
3.375%
Green Bond
Luxembourg Stock Exchange
ExtraMOT PRO
10
04/07/2024
500.0
329.4
Fixed, annual
2.375%
Bond
Not listed
15
05/08/2024
20.000 JPY
149.8
Fixed, half-yearly
2.93%
Bond
Luxembourg Stock Exchange
12
22/05/2025
32.0
15.0
Fixed, annual
3,5%
Bond
Luxembourg Stock Exchange
10
14/10/2026
400.0
400.0
Fixed, annual
0.875%
Bond
Non quotato
15/20
14/05/2027-2032
102.5
102.5
Fixed, annual
5.25%
Green Bond
Luxembourg Stock Exchange, Irish Stock Exchange, ExtraMOT PRO
8
05/07/2027
500.0
500.0
Fixed, annual
0.875%
Bond
Luxembourg Stock Exchange
15
29/01/2028
700.0
700.0
Fixed, annual
5.20%
Bond
Irish Stock Exchange, Luxembourg Stock Exchange
10
03/12/2030
500.0
500.0
Fixed, annual
0.25%

Page update 17 February 2021
Seleziona il tuo comune
HeraAssetPublisherFilterComuneSelector